1998 Mid-West Toyota Supra Meet Pictures
This page has several links on it to other pages. Each subsequent page deals with a specific time or place.
The meet started for me when I had My new 1995 MKIV TT 17" Rims and matching 235/40/17 & 275/40/17 Firehawk Firestone SZ50 Rubber.
DISCLAIMER: I am not a proffesional photographer, and i do not have professional equipment. I took these photos using a Kodak DC40 Digital Camera, which plugs right into my laptop, and to you, the net surfer.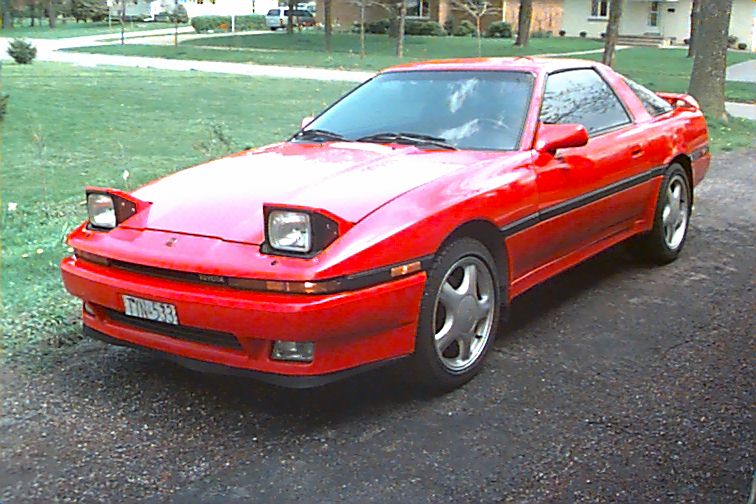 It is Friday Morning April 24th. I have had my new rims and tires installed, and have travelled 3 hours along the 401 towards winsdor, my thursday night stopover destination. I woke up at 7am, eagerly anticipating the spring time ritual of travelling hundreds of miles to meet new and not so new Supra Owners From across the globe. I have washed, armoralled, and windexed crucial areas of my Supra, and ready to hit the black asphault that will carry me to Huber Heights, Ohio.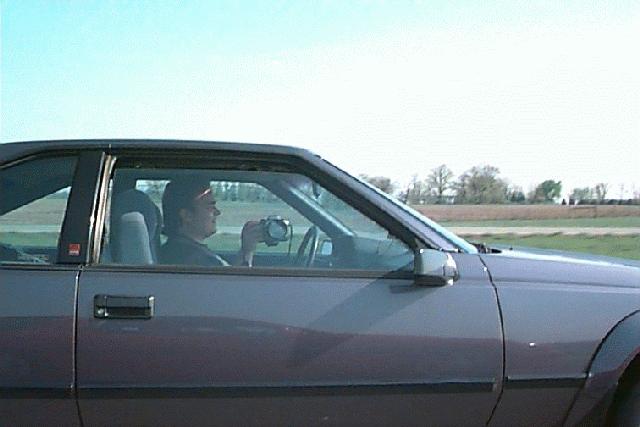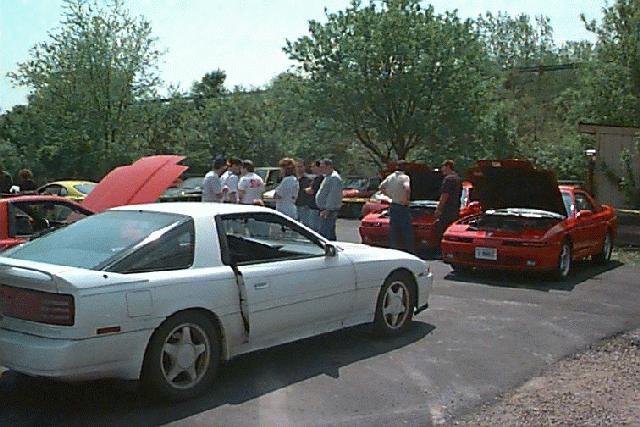 Matt, Brian, and myself opted to stay at Nick's house. I arrived around 4:30 pm, and drove right past his place, only to turn around, and see him flagging me down from the other end of the block. That night we talked, did a little cruising, met up with James and a few other guys and then went back to Nick's for a 10pm B-B-Q. then we gathered in the kitchen and yacked like young school girls until 3am. We talked about everything, and anything. Time to hit the sack for a refreshing 3 hours sleep, for at 6am, we are getting up to be at the hotel by 8 am, which we missed by and hour. My first meet picture is one of Jim Jobe trying to snap a pic of me, at around 70mph. This is not easy, and i took several shots, of those, this is the best. The road we travelled from dayton to columbus was mostly flat, straight, and smooth. It did have some interesting curves.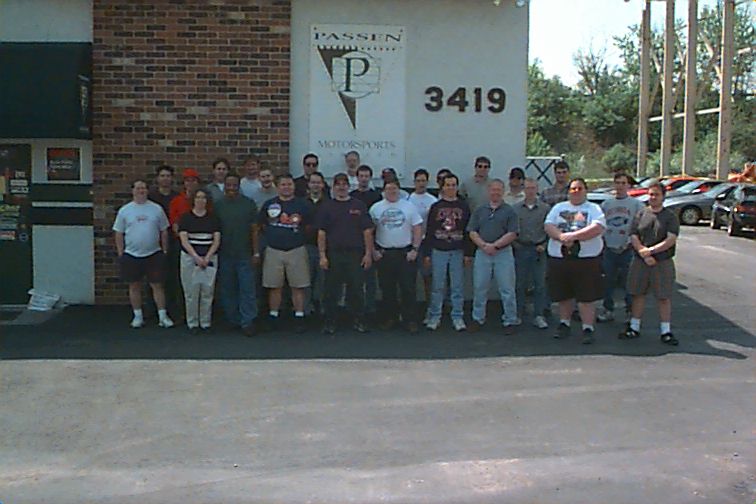 This is a pic of James taking a pic of us in front of Passen Motorsports.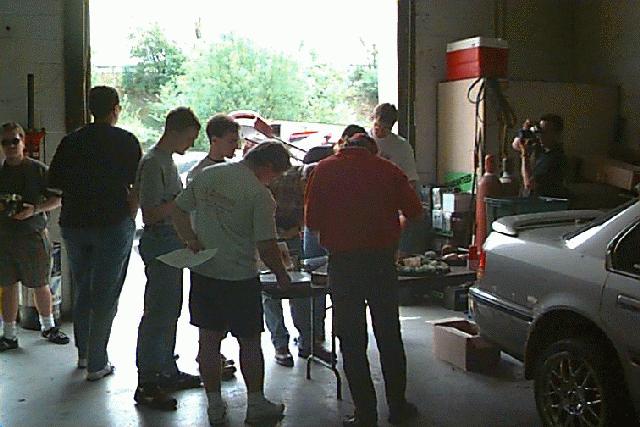 While snapping pics, we noticed a big wreck hauler with interesting cargo. A battered and beaten Viper, no doubt after a clash with guilly on some deserted arizona hi-way. Once back inside, everyone gathers to check the two big binders of pics from the Toyoko Auto show that James attended earlier this year. Those pics were interesting James, too say the least, wink, wink, nudge, nudge.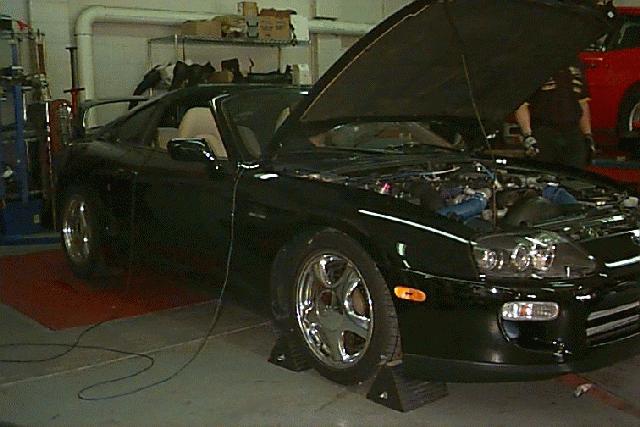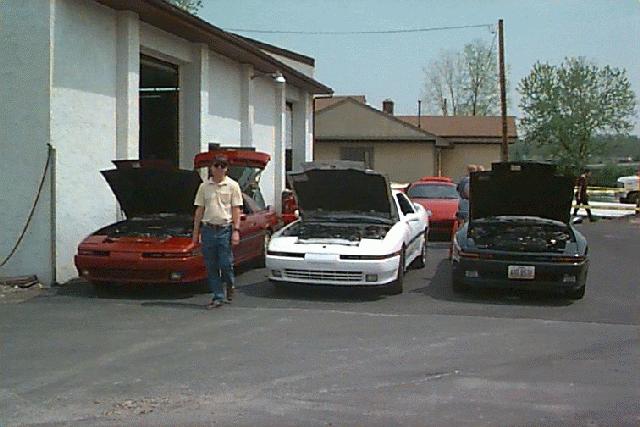 Here is a black mkiv on the dyno and a pic of 3 mkiii's just having experienced the dyno.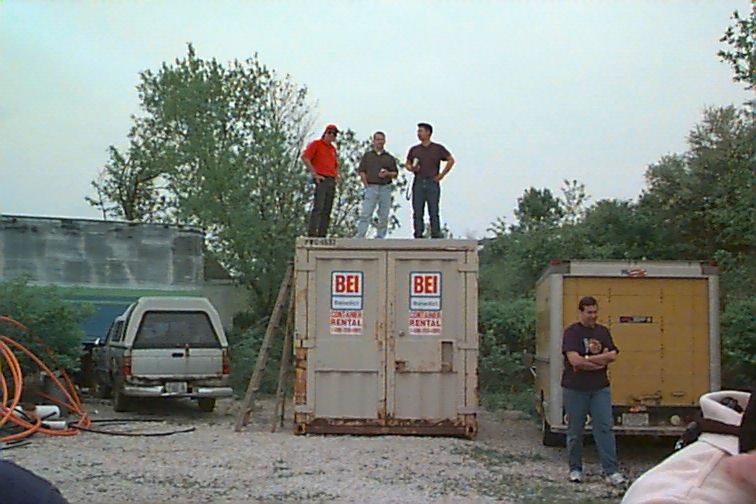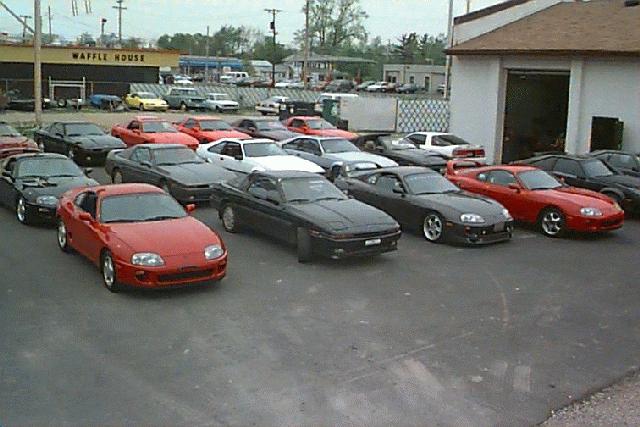 It is now after lunch, and we have gathered all the Supras together for family shots. The shot on the left is one of the vantage points of which the shot of the left weas taken. Over 20 supras spanning 3 generations line up. What a sight.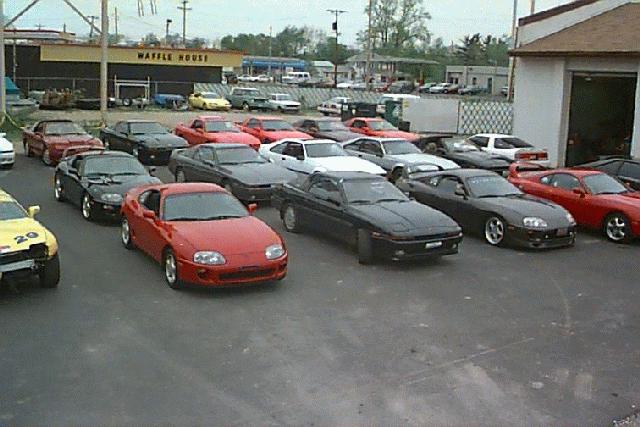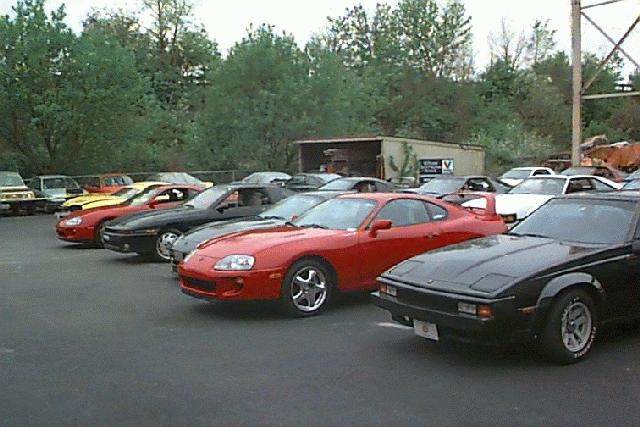 Everywhere you look, love is in the air.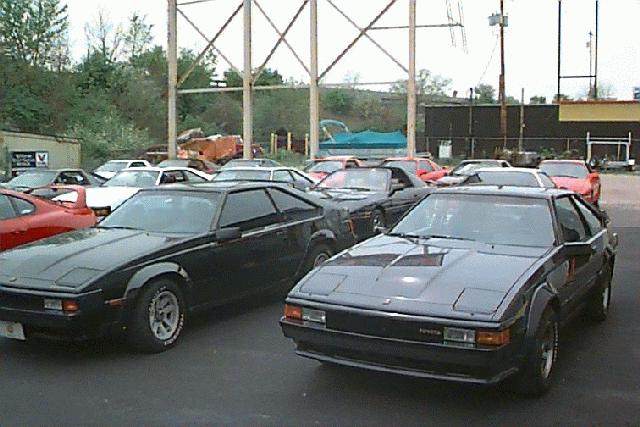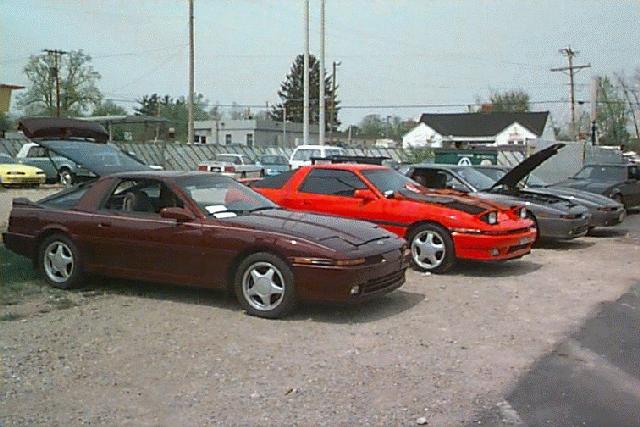 I love what you do for me, TOYOTA!!!!!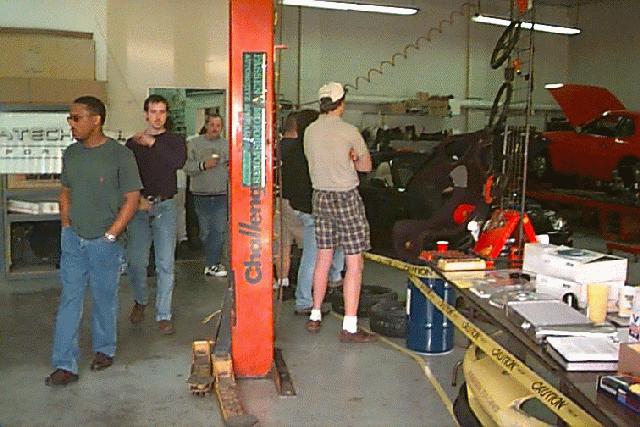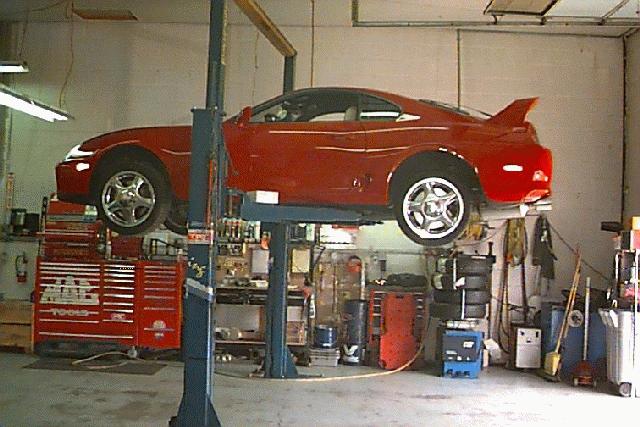 Mike Green, owner of this beauty of a mkiv, purchased and installed an EXTREME EXHAUST at the meet, then proceeded to dyno it, creeating 271HP from a basically stock MKIV. Passen opted to dyno the car again, just to check the numbers they got, fearing that they might be a tad in error. Same numbers second time, so it was official.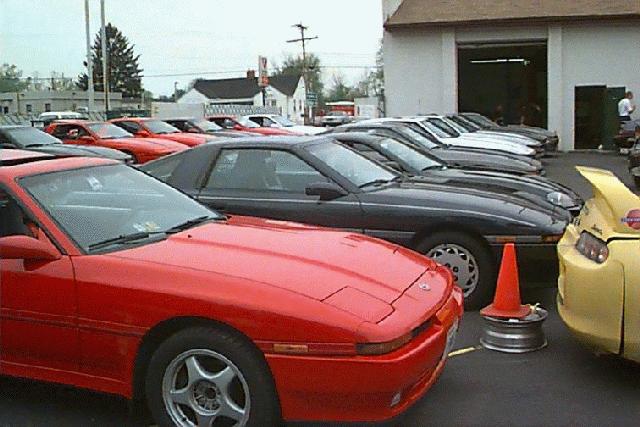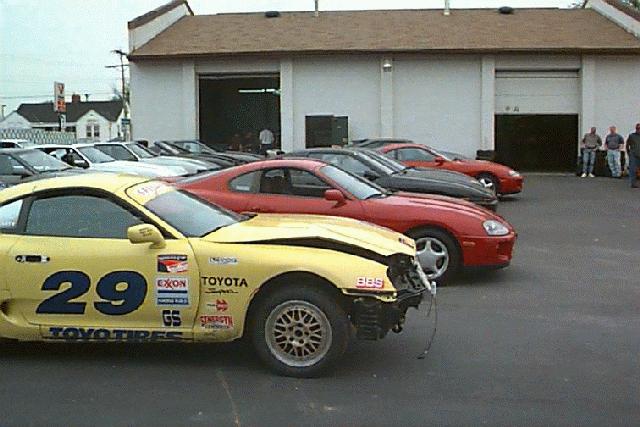 This is Dave M's 91t and the Speedvision Cup Race car from last year.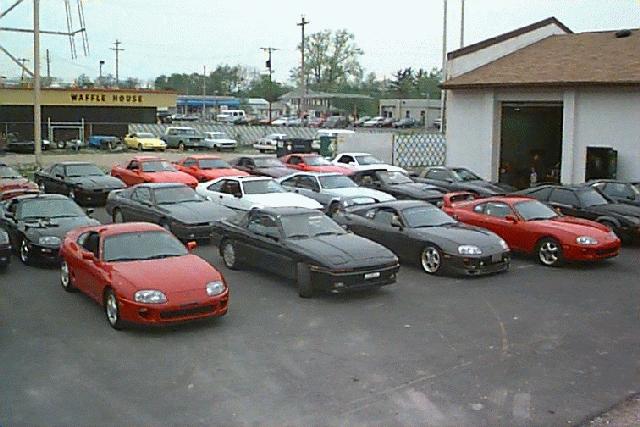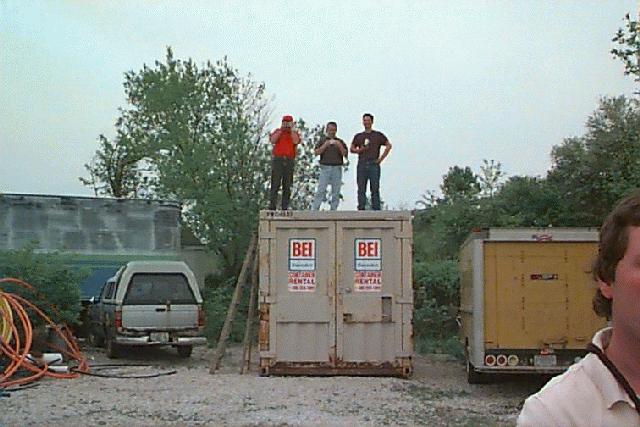 i'll be quiet for a hhile and let you soak up the atmosphere.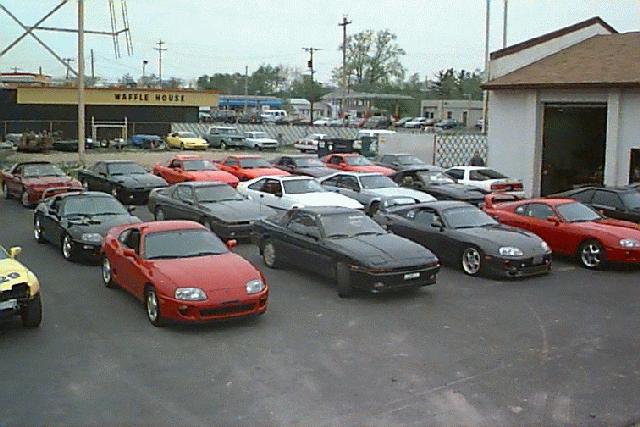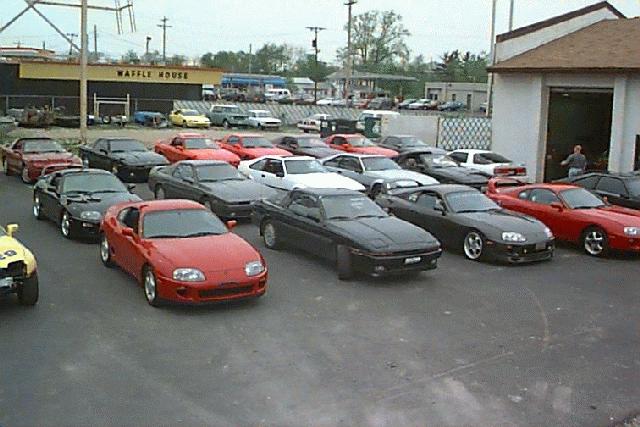 ...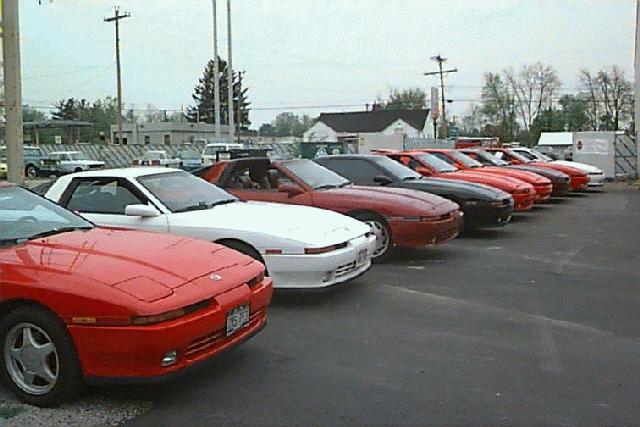 ...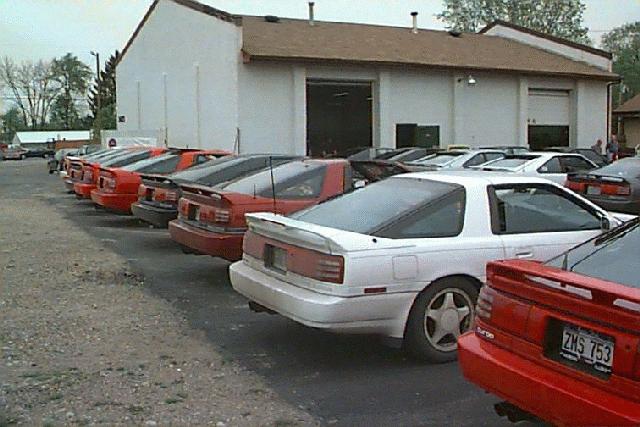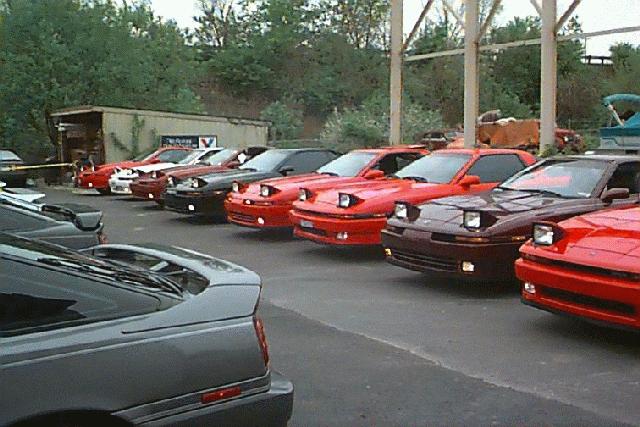 ...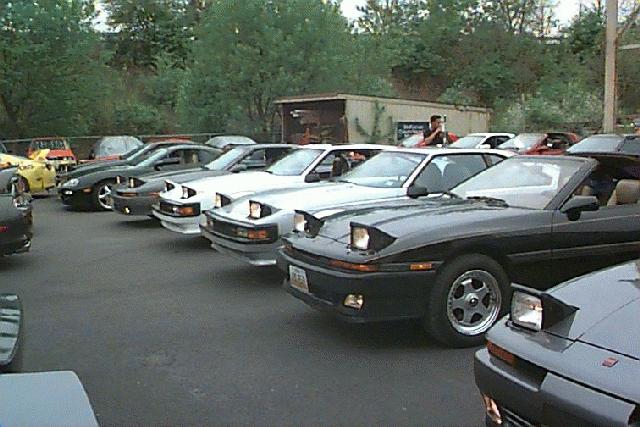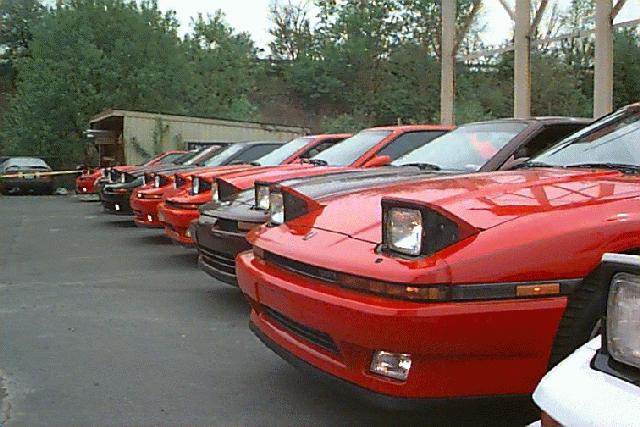 ...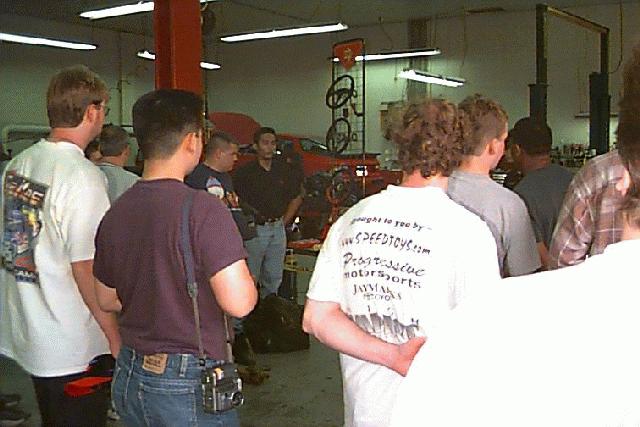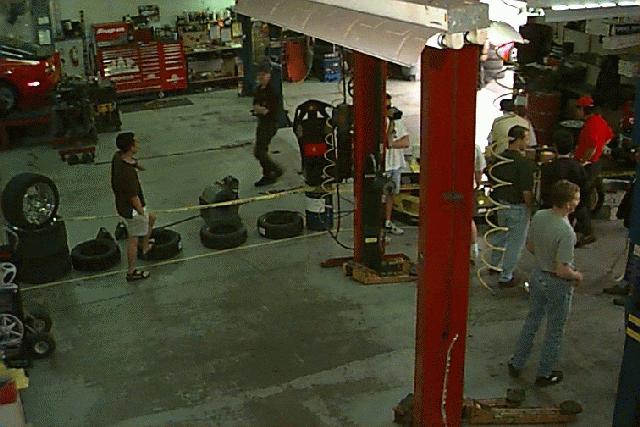 ...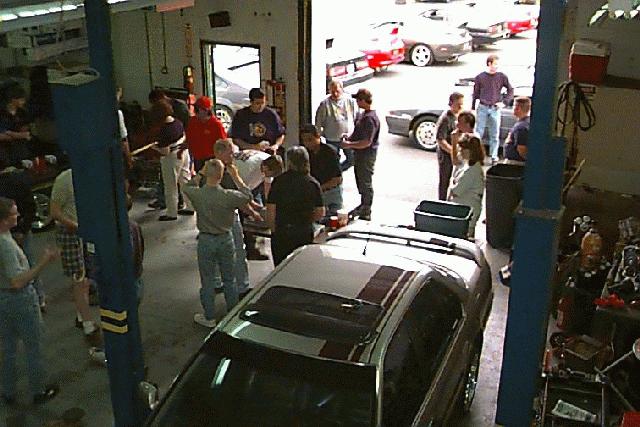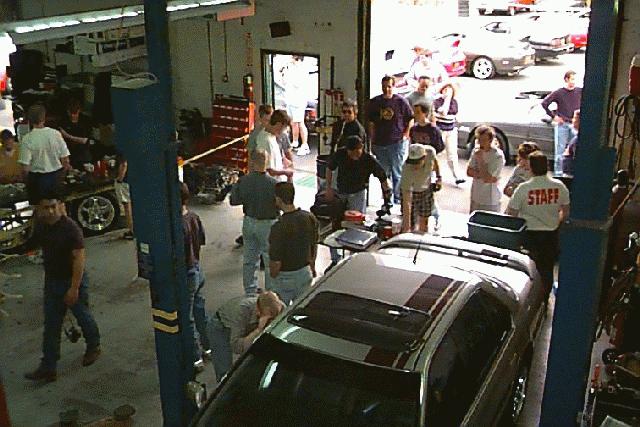 This is an overhead shot just before the raffle started, of which i won second prize, which was a full case of red-line 10w30 motor oil, and two valvoline oil filters. Thanks Guys!!
I hope you enjoyed these pictures and the stories accompanying them. I didn't realize i took so many pictures until Monday morning, but each one is priceless, and worth much more than 2 thousand words each.
If you see any pictures that you would like for your web page, or private collection, send me an e-mail, and i will forward you the uncompressed picture, which is 3 times the size and resolution.

Continue Your Journey With Page 2.
or


Take a look at the Matt Talberts Mid-West Meet Pics
or


Take a look at last years Toronto event, the Canadian Supra Appreciation Day
or


Check out other Supra meets and pics.
or


Visit my home page.

This page last modified on May 8th, 1998
supra fans have visited before you, and many more will visit after you leave.

Sign or View The 1998 Midwest Meet GuestPage